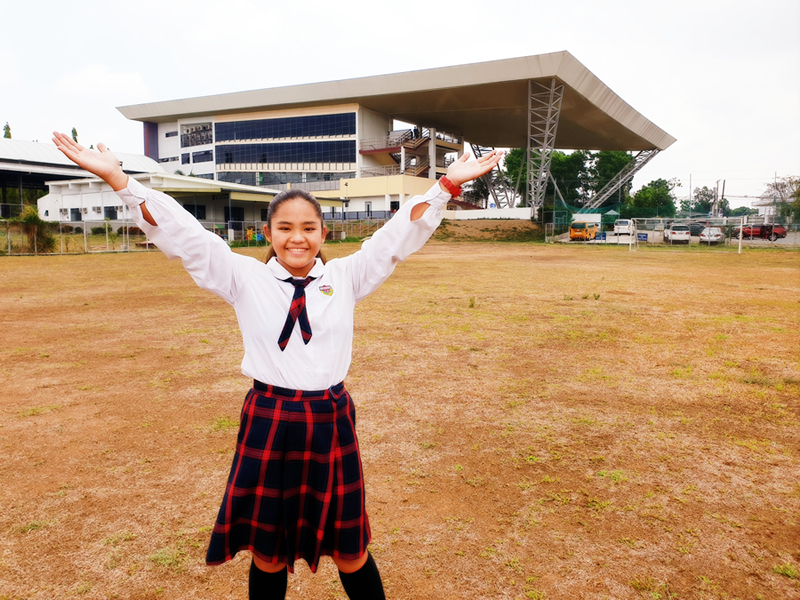 Alyssa Caro, SSIS Malarayat's young swimmer, enjoys the campus breeze.
April 2019 – After the remarkable performance of SSIS students in international Math and Science Competitions this month, here come our very own athletes soaring in their own fields. The month of April highlights the achievements of Hyun Ho Rho in Junior Golf Championships, Alyssa Caro in Swim Championship Meet, and the Kings' Football Team in a Football Cup sponsored by SSIS Batangas.
To start of, Grade 7 swimmer Alyssa Caro bagged three medals in the 2019 PASCAI Long Course Series Championship Meet held last April 13, 2019. Her grit and passion for her chosen sport has earned her 1 Bronze and 2 Silver Medals.
The Kings' Football Team also demonstrated grit; proving that training indeed gives one the edge. After a gruelling day of football last April 27, 2019 during the Knights Football Cup held in Stonyhurst Southville International School (Batangas Campus), the team placed 2nd Runner-up. Participating teams included Tayabas FC, Lipa United, Stonyhurst Southville International School-Batangas, Stonyhurst Southville International School-Malarayat Campus, and South Mansfield College
Finally, Hyun Ho Rho, Grade 8 high school student, exhibited an astonishing victory in the recently concluded Mount Malarayat Junior Golf Championships last April 28 in Lipa City, Batangas. Andrew, as called by his classmates, copped the overall championship by carding 73 net in the said golf tournament. He is declared the over-all champion in the 13-14 Division, and the 13-18 Division.
The Mount Malarayat Junior Golf Championship assembled 50 players in the tournament sanctioned by the Junior Golf Foundation of the Philippines. The tournament is a duly ranking event of the Junior Order of Merit, which classifies player using the Score-Based System. JGFP is a non-profit organization dedicated to the growth and development of junior golf in the country in order to create a competitive and fun environment, and help these players develop their skills and positively builds their character.
Congratulations to our young athletes for these amazing accomplishments!