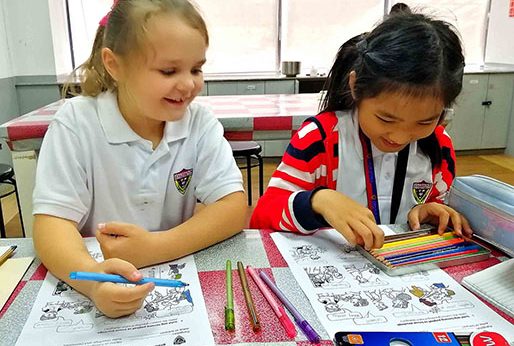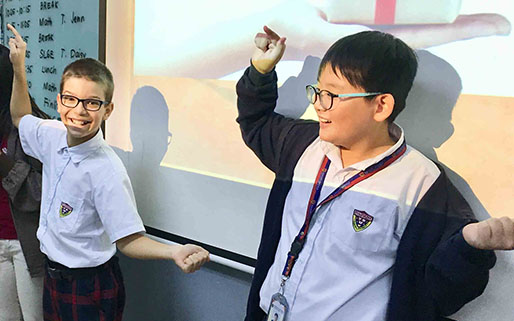 Why study Grade School in Stonyhurst?
The SSIS Grade School (GS) Department consists of students from the 3rd, 4th, 5th and 6th Grades.  This stage aims to equip learners of essential skills, habits, attitude and values that would prepare students in pursuing secondary education
In Grade School, students deepen their understanding of the different academic areas.  The development of physical, emotional, social and functional skills are also highlighted in the GS program.  Aside from the academic subjects – Math, Science, English, Social Studies, Languages, there are also courses on Arts, Culture and Sports – Physical Education, Values Education, Home Economics, Technology, Robotics, Financial Literacy, Football and Interest Clubs.
SSIS Grade School Department is generally patterned after the Common Core State Standards for English, UK Standards for Mathematics and Science, and NCTM (National Council of Teacher of Math). It applies WASC Focus on Learning called Expected Schoolwide Learning Results (ESLRs).
For teaching methodologies, Grade School Department of SSIS uses innovative learning technology and effective approaches in teaching such as Brain-based Learning, Differentiated Curriculum, Instruction and Assessment (D.C.I.A.), Positive Learning Environment through Discipline (P.L.E.D.), and Understanding By Design (U.B.D.).
Below is the list of the academic programs offered in Grade School Department:
MATHEMATICS
The program aims to make the learner understand and master the different mathematical concepts, theories and principles in order to adapt to the fast changing needs and challenges of modern education. They are to acquire competencies and develop the power of quantitative thinking in applying mathematical procedures in daily life. They should also demonstrate skills in computing accurately, estimating, communicating, thinking critically and analytically in solving mathematical problems related to human social life. They should be able to have daily positive attitudes towards Mathematics, thus, developing the value of self – reliance, competitiveness, accuracy, confidence and excellence for the greater glory of God.
ENGLISH (COMMUNICATION ARTS)
The program aims for each pupil to learn, understand, appreciate and use the English language in everyday life. Students learn to listen, speak, read, write, and view at different times and in different ways through the creative and informative activities. The learners are provided access to varied information that they must effectively use in spoken and written forms. Learners are expected to communicate fluently and effectively for various purposes and contexts. Furthermore, they are equally molded to be persons imbued with the values integrated in all lessons.
The program also aims to integrate the desired learning competencies for each grade level. The reading skills are thoroughly covered, particularly the areas of comprehension, vocabulary enrichment, literary appreciation and study skills. Diverse and rich oral and written practice activities help students become proficient with the concepts and skills of reading.
Science
The program aims to make the learners understand, explore, appreciate and apply the science concepts and principles. It aims to provide the learners opportunities to acquire and apply scientific skills, processes, attitudes and values necessary to analyze and solve problems in varied life situations. The learners are also expected to appreciate the importance of living and non-living things by observation, interaction and exploration through experiments and investigations.
Social Living and Global Education
Social Living and Global Education was conceived to develop in students historical and global perspectives, concerns, and standards for their role as citizens of a democratic society in an interdependent world. The global perspective will help them see their linkages to others leading them towards participation, collaboration, and acceptance of diversity. Students are made to realize that a person does not live for himself alone but for his country, his people, and for all the people of the world.
FILIPINO
Ang Filipino ay naglalayong humubog ng iba't ibang kasanayan at kaalaman sa pakikinig, pagsasalita, pagbabasa, pagsusulat at pag-iisip sa wikang sarili upang malinang ang kakayahan at kasanayan ng mga mag-aaral upang maging tunay na Pilipino sa damdamin, sa isip, sa salita at sa gawa na may takot at pagmamahal sa Diyos.
HOME ECONOMICS AND TECHNOLOGICAL ARTS
The program is gender free to promote equality in performing the different tasks of boys and girls. It also develops in the students love and respect for work and provides them with the basic skills necessary to become productive and responsible members of the family, and the country. It also gives them survival skills. Beyond this, it develops the students' nurturing skills, sense of responsibility, and independence.
COMPUTER
The program aims to equip the learners with the computer skills and knowledge needed to be competent, productive and creative individual in the information age.
MUSIC
The program aims to help the learner to widen and strengthen his sensitivity to creative and expressive qualities of Music through the perception and understanding of its component elements for the improvement of personal, social, cultural and aesthetic growth.
ARTS
The program aims to provide activities and opportunities for each learner to develop best understanding of fine arts, aesthetic and critical senses and creative expression.
PHYSICAL EDUCATION
The program aims to meet the physical, social, emotional as well as recreational needs of pupils through various enjoyable activities that would help them to think critically, express themselves positively and work with others harmoniously.
FOREIGN LANGUAGE
The program introduces students to different languages and cultures. It also enhances cognitive development, creativity, and divergent thinking. Studies show that learning another language enhances the academic skills of students by increasing their abilities in reading, writing, and mathematics.