SSISM based it's curriculum and core values on the 5Cs of success, the five anchors that are necessary to succeed in the 21st century. Together with the 5 Cs are the School-Wide Learner Outcomes (SLO) representing the qualities of SSISM students should posses when they graduate.
Meet international standards in the core subjects.
Solve problems and complete tasks using multidisciplinary skills and higher order thinking skills.
Integrated and apply knowledge and experiences gained from different subject areas a in real life situations.
Express ideas clearly and effectively in oral and written communication.
Apply information technology literacy skills.
Engage in projects and activities using basic knowledge of entrepreneurship (Grades 3-12), business management (Grade 7-12), capital market and investment (Grades 10-12).
Apply financial literacy skills.
Use functional skills in at least one foreign language, aside from English and the first language.

Demonstrate understanding of responsibility for environmental, local and global issues.
Use variety of lifelong learning strategies, self-management skills and practical skills for life.
Demonstrate passion for learning through reading, research, use of technology to broaden one's knowledge and validate one's ideas.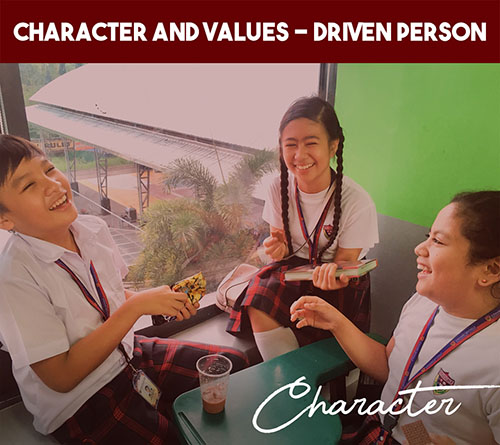 Demonstrate responsibility, orderliness (5S), self-control and discipline.
Build positive relationships by being polite, kind , and compassionate.
Show humility and gratitude in words and actions.
Manifest integrity and truthfulness.
Demonstrate national and global citizenship.
Set specific, realistic and challenging goals with a growth mindset, focus, and a "can-do" attitude..
Accomplish tasks and goals with grit through discipline, determination, perseverance, resilience and a sense of urgency.
Show grit by overcoming problems and working out blocks to achieve short and long term goals and objectives.
Demonstrate a growth mindset by exerting effort to strive for excellence and continuous improvement.
Produce quality output through growth mindset and continuous improvement.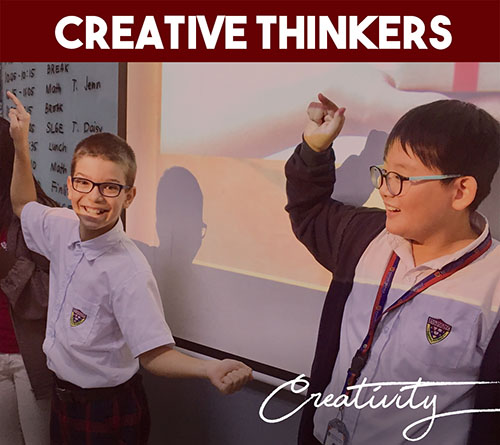 Apply varied problem-solving processes to real life situations to have better ways of doing things.
Employ innovative strategies and explore new challenges.
Challenge ways of doing things to make them more effective.