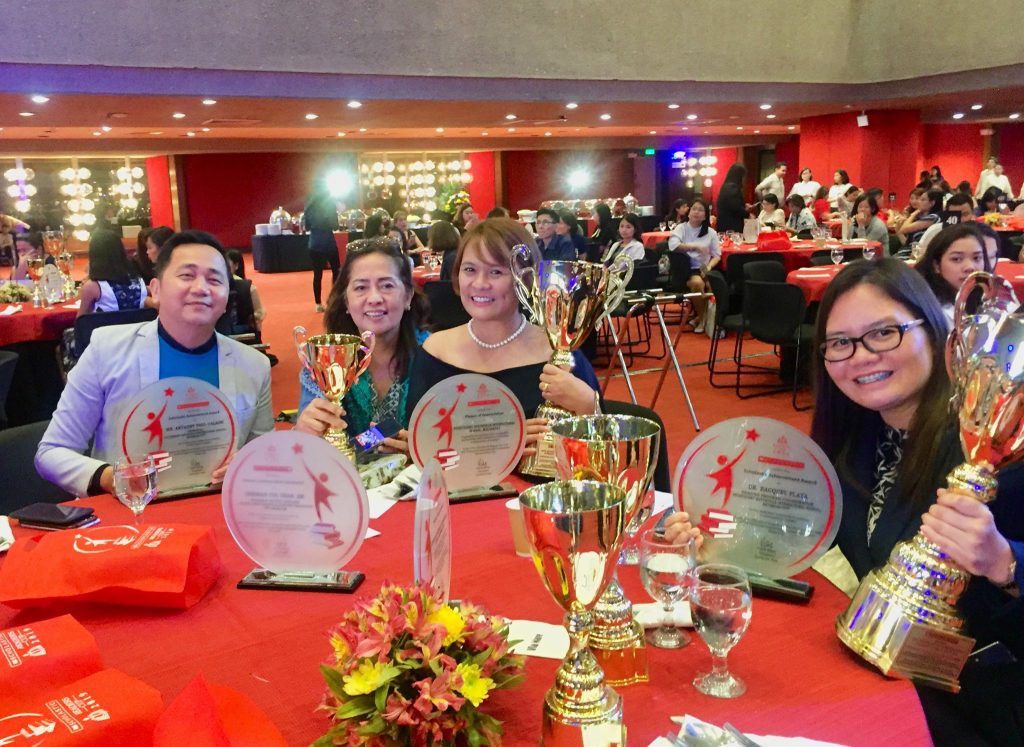 Scholastic Recognizes Stonyhurst. SSIS Heads – AC Calado, Ms. Beng Yague, Donnabelle Atienza, and Raquel Dalangin show their trophies in this year's Reader's Cup.
August 2019 – The first month of Academic Year 2019-2020 was a blur following all the orientations, events launching, and school activities. This rush has fueled the KINGS' spirit more as they garnered awards week after week – including achievements from Australian Math Competition (AMC), National Math Vedic, Scholastic, Inc., and Sports & Athletic Meets. Truly a demonstration of Grace and Grit!
Math Wizards Bring It On Again
The streak of excellence kicked off early into the school year during the 2019 Australian Mathematics Competition (AMC) held August 8, 2019. Math wizard, Michael Tongson (Grade 6) received a HIGH DISTINCTION AWARD and was recognized for being in the Top 3% of their year group. Mikee is one among 88 Filipino students who stood out in the competition.
A week after, August 15, 2019, Tongson dove into another competition, this time, together with other Grade 6 students – Jom Kaw and Brent Raz – landing on top in the 1st Philippine National Vedic Olympiad. The team won SECOND PLACE, each getting silver medals. Aside from the team awards, the individual category merited Jom a Silver Award, while Mikee got a Gold Award conquering the competition as the FIRST PLACER among all Grades 5-6 students, scoring 109/110.
A Tradition of Loving Reading
The third week of August validated the KINGS love for reading, when again, SSIS Malarayat / Lipa was recognized by Scholastic, Inc. for its reading performance. It has been three years in a row that the school has been in Top 4 for the Scholastic Reader's Cup, and 2 years straight, back to back First Place in the Synergy Award together with SSIS Batangas. The school has achieved the following: FIRST PLACE – Synergy Award, FOURTH PLACE – Emerald Category for reading an average of 133 Books per student, and SPECIAL AWARD for achieving the Scholastic Average of 40 Books per student. From 200 books a few years back, we are now reaching more than 40,000 books a year. We have indeed come a long way!
Excellence in Sports
It is not only in Academics that SSIS KINGS have demonstrated excellence but in Sports as well. Last August 21, 2019, Stonyhurst Southville – Lipa, represented by Basketball athletes Janrae Atienza, Jose Pulgado, and Lance Serrano, bagged FIRST-RUNNER UP in the 3×3 Basketball League South Tournament held in Muntinlupa City.
Meanwhile, in the Athletic District Meet, SSIS Lipa Athletes of basketball, volleyball, badminton and chess also raised the KINGS' flag and made us proud through their passion, maturity and a never-give-up attitude. This has paved the way for the athletic team to bring home the following awards: BASKETBALL TEAM – CHAMPION, VOLLEYBALL GIRLS – 2ND RUNNER UP, and BADMINTON (Kimberly Lorilla) – 2ND RUNNER UP.
The grit showed on the first month of this school year has fired up the school community. We congratulate and thank, not only our student-awardees, but also their respective coaches, mentors, teachers; and the very supportive parents. Quant je puis!