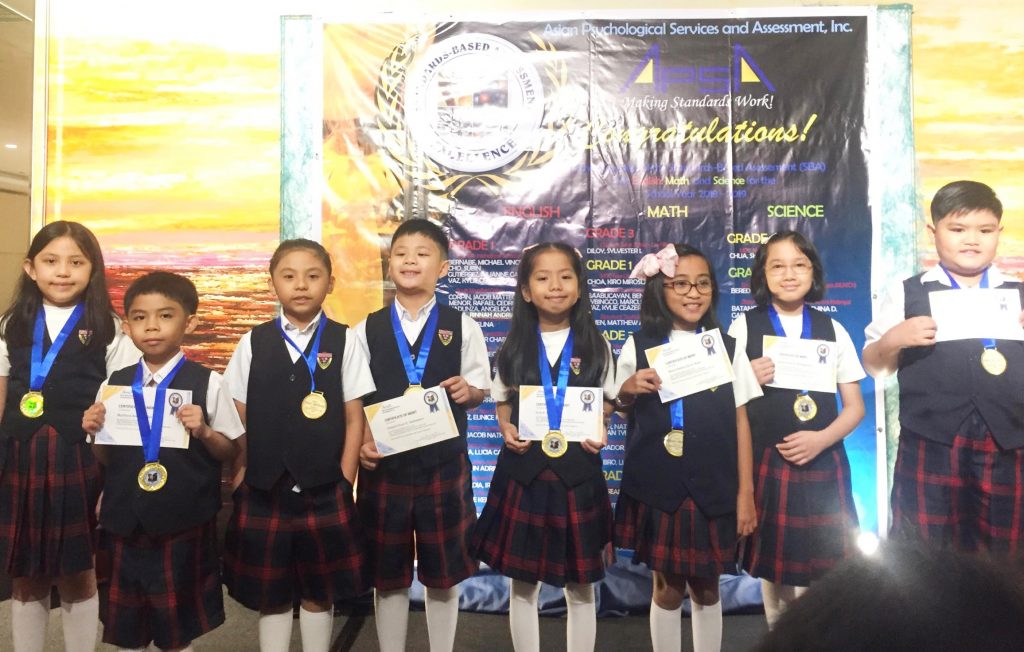 SBA Perfect Scorers for Academic Year 2018-2019. (From Left to Right) Chereese Mendoza, Matthew Buen, Laureus Sumague, Joaquin Santamaria, Irish Balahadia, Maan Reyes, Merial Batangantang and John Carl Gabino.
9 PERFECT SCORERS IN STANDARDS-BASED ASSESSMENT RECOGNIZED
The Asian Psychological Services and Assessment, Inc. (APSA) recognized students of Stonyhurst Southville International School – Lipa last November 27, 2019 in Hotel Jen, Roxas Blvd., Pasay City for their outstanding performance in APSA's Standards-Based Assessment (SBA) for school year 2018-2019.
These brilliant minds got PERFECT SCORES in English, Math and/or Science together with 38 other students who were hailed as Top Notchers nationwide. Once again, the Kings lived the school's maxim, Quant Je Puis!
Congratulations, Top Notchers!
ENGLISH (GRADE 2) – Irish Balahadia
MATH (GRADE 1) – Matthew Andrei Buen
MATH (GRADE 5) – Michael Gerard Tongson

SCIENCE (GRADE 2) – Merial China Batangantang, John Carl Gabino, Allannah Chereese Mendoza, Maria Andrea Lilia Reyes, Joaquin Cesar Santamaria, and Laureus Miguel Sumague

APSA has been the school's partner for more than a decade, with its assesment (SBA) providing an objective and relevant feedback to the school in terms of its quality and effectiveness of instruction against national norms and international standards.