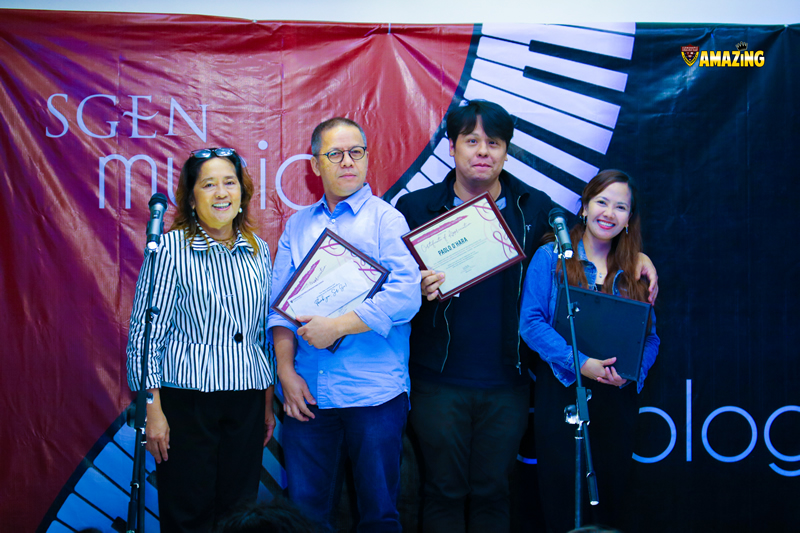 President of Allied Schools, Ms. Beng Yague with the amazing judges
Stonyhurst Southville International School – Malarayat Campus hosted the first ever Performing Arts Competition among the Southville Global Education Network (SGEN) schools last February 20, 2019. Dubbed MUSIC & MONOLOGUES, this competition highlights acting and singing in the aim to showcase talents of High School students in the performing arts.
This year, the categories were Musical Category and Pop Category. Each school from the SGEN Network fielded in 4 representatives for solo singing and monologue competition. Professional actors and singers Diana Alferez, Paolo O'hara and Gie Onida sat down as judges, in a morning of theatrical delight.
SSISM acknowledges all the winners:
MUSICAL CATEGORY
Monologue Performance
FIRST PLACE – Gelyannah Villarama (SSISM)
SECOND PLACE – Francine Belen (SMC)
THIRD PLACE – Zackary Flynn (SISC)
Solo-Singing Performance
FIRST PLACE – Angia Laurel (SISC)
SECOND PLACE – Stephanie Castillo (SSISM)
THIRD PLACE – Diane Villena (SMC)
POP CATEGORY
Monologue Performance
FIRST PLACE – Eisen Villanueva (SSISM)
SECOND PLACE – Derrick Muncada (SISC)
THIRD PLACE – Seth Alonzo (SISFU)

Solo-Singing Performance
FIRST PLACE – Angia Laurel (SISC)
SECOND PLACE – Jan Em Guico (SSISM)
THIRD PLACE – Rowelyn Toston (SEED)