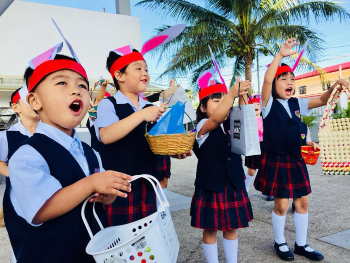 Stonyhurst Southville International School – Malarayat / Lipa City campus will host its first-ever Easter Egg Hunt and Open House on April 12, 2020 (Sunday) at the SSISM school grounds.
This event seeks to create a new experience, not only for SSISM students, but for kids within our community; thus, the Easter Egg Hunt is open to the public.
For only 250 pesos, kids ages 2-10 will have a half-day of fun, snacks, surprises, raffle and exciting prizes. Parents and guardians are free of charge and may enjoy a school tour and free assessment for their child for an international education.
Registration starts at 8:30 AM and the program proper is at 9 AM sharp. Since slots are limited, we encourage you to reserve your slot right away and purchase your tickets in advance because it is strictly on a first-come first-serve basis.
Stonyhurst Southville has made sure that this event will be a memorable moment and worthwhile activity for your child, so contact us now through the following with "EASTER EGG HUNT" as subject:
Email – infolipa@stonyhurst.edu.ph
FB Page – https://www.facebook.com/ssismalarayat/
Mobile – 0925 811 1385 or 0997 403 6445
Tag along a friend, and don't forget to bring a basket for your eggs! We hope to see you soon!