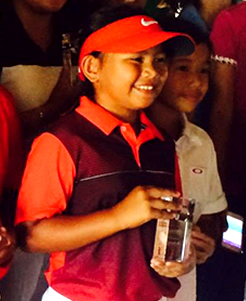 KING OF GOLF
One of the youngest golfers in the region is a proud SSIS King. King Joseph M. Ilagan, a Grade 3 student of SSIS Malarayat, has recently discovered golf and in an instant fell in love with the sport. He only started playing February 2015 at the Fernando Air Base, and has since taken home awards from various competitions.
His first tournament was at Malarayat Golf & Country Club in April 2015. During that summer, he joined an all adults tournament at Fernando Air base, and later received a 7th runner up Trophy at Phil Navy Golf Club – JGFP-TJGL Open. He also participated in a tournament at Canlubang Golf, playing with mostly adults, with a score of 74 (a below 100 score is a very good play). His enthusiasm and winning streak continued. He played at Eagle Ridge Golf & Country Club on May 21-22 PGF Junior Master, and got a 2nd Runner up Division 2 at Phil Navy Golf on June 28, 2015 (Best of 3 Games).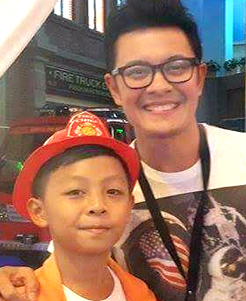 GAB HERNANDEZ STARS IN REPERTORY'S SNOW WHITE
He hits different sizes and shapes of cans and bottles to create rhythmic patterns and dance with the beat of his mood. He makes his own tunes and sings them without hesitation.
King Gabriel Hernandez, popularly known as Gab, has remarkable inclination to music and it manifested at a very early age. As young as 3 years old, Gab's supportive parents enrolled him to a music school where he learned how to play the drums. Soon enough, he started attending voice lessons.
Growing up, Gab joined various singing and talent competitions where he won top prizes. Music has become his twin brother. In school, he has been known as "the voice" student.
His passion for music opened him up to embarking a higher ground on stage. He was taken in as a scholar of The CampArt Kid of Kids Acts Philippine Inc., which actually started his journey to becoming a stage actor. With them he has performed for Alice in Wonderland, Mulan, Pinnochio, and Beauty and the Beast The Musical.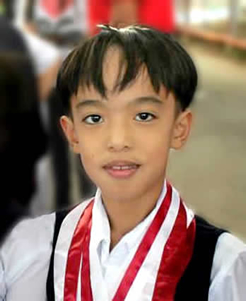 SYD DALANGIN TO COMPETE IN AN INTERNATIONAL COMPETITION
Gadriel Symone R. Dalangin is a Grade 3 student of SSIS Malarayat. After getting into the national level of the prestigious and tough Mathematics Trainer's Guild (MTG) Philippines' Young Mathematicians In-House Intensive Training Program In Baguio in the summer of 2015, Syd qualified as one of the 26 (among about a hundred mathematicians) and is off to compete internationally!
The Mathematics Development Academy of the Philippines (MathDAP), an organization composed of the MTG Elite, recognizes this and announces Syd's eligibility to part of the Philippine team in the coming 2015 International Wizard Challenge (IMWiC) which will be held in Hongkong on August 9-12, 2015.
Syd is the first SSIS King to ever compete abroad in an international competition. Truly an Amazing Achiever.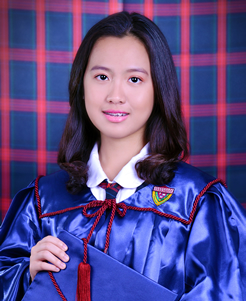 NAVAL GETS TOP RANKS IN ACET & USCET 2015
Asheley Bernice M. Naval is our Valedictorian for Class 2014-2015. She has been a consistent Gold Awardee since Grade School and has represented the school in various competitions.
Towards the end of the school year, Asheley got into one of the Honors Programs of Ateneo – BS Biology – belonging to the TOP 15% of all ACET Takers! She also ranked 6th among 1,500 test takers of the UST College Entrance Examinations for BS Biology, where she is taking her college degree.
Asheley's achievement, brought by hard work and determination, has inspired the SSIS Malarayat community to be excellent in every way. Truly an SSIS King. Truly an Amazing Achiever.